Noah Fischer – SELMER and Friends
It was finally that time again. A workshop at SAXOPHONIC live and on site.
We were more than happy to be able to invite you to attend to a wonderful SELMER and friends workshop – with the great sax player Noah Fischer.
To make YOU happy makes US happy – and we are still happy about the great enthusiasm Noah triggered in you, with many new impressions, exciting playing techniques and lots of great conversations..
This is what we call a successful day at SAXOPHONIC.
Can you find a picture of a saxophonist playing lying down in the gallery? You weren't there and you're wondering what that's all about? This technique is one of several exciting exercises, Noah Fischer used, to trigger in just a few moments a power and transformation in the workshop participants that is unimaginable!
Just give it a try.
Have fun with the impressions of the day!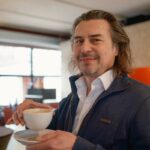 To the workshop content:
SELMER and Friends with Noah Fischer.
In this workshop, SELMER artist Noah Fischer gives tips on techniques for developing his personal saxophone sound in the areas of rock, pop and jazz saxophone.
He also offers insights into his entire saxophone equipment, which accompanies him on his many tours with Udo Lindenberg, Yello and in his solo projects, including the electronic tools for processing the sound in live performances, such as microphones, sound effects, foot pedals and more.
The event will of course be accompanied by lots of music by Noah.
His experience is diverse: the saxophonist, composer and arranger plays in classical orchestras, big bands, musical shows and small acoustic bands as well as in big rock-pop productions – from small clubs to concert halls to large stadiums.